TikTok kicked off its #MyPride weeklong celebration Monday and named its 2020 LGBTQ+ TikTok Trailblazers, a list of 25 up-and-coming creators using its platform to make a positive impact on the LGBTQ+ community.
The 2020 LGBTQ+ TikTok Trailblazers were revealed
The #MyPride on TikTok was created to attract users in accordance with Pride Month admitting an incredible LGBTQ+ community on TikTok. From musicians pushing boundaries, to creators owning their identities, here's to everyone being proud of being themselves.
TikTok is donating $3 million to the LGBTQ+ community
The video creation platform is donating $3 million to LGBTQ+ organizations that provide resources, support and shelter to the community, and it added the following LGBTQ+ nonprofits to its donation sticker: GLAAD, the It Gets Better Project, Sage, Stonewall Foundation, The Trevor Project and True Colors United.
As part of Pride Month we're donating $3 million to support LGBTQ+ causes. Join us by sharing your #MyPride stories and consider donating to these community-focused organizations.

TikTok
This week everyday at 5 p.m TikTok will present livestreamed content hosted by its 2020 LGBTQ+ TikTok Trailblazers and special guests including Hayley Kiyoko, Kim Petras and Pabllo Vittar.
Event schedule will be released via the TikTok's #MyPride banner
In-application creative effects have been released throughout LGBTQ Pride Month, including Pride Flag Cape, Pride Polaroid, Rainbow Eyeshadow, Rainbow Ribbons and Rainbow Sparkles.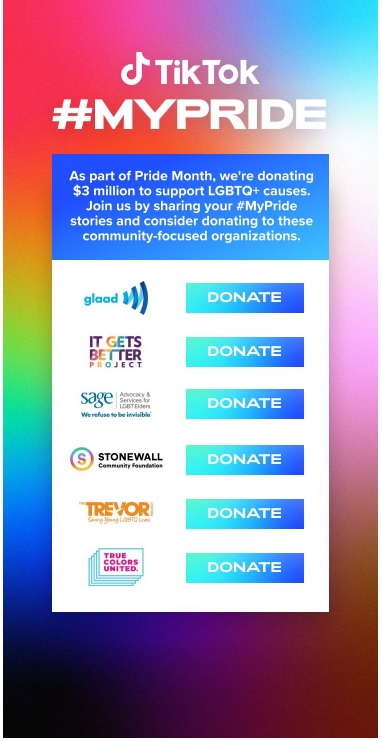 Finally, TikTok shared its list of the 2020 LGBTQ+ TikTok Trailblazers, calling them
Creators who are defining what it means to embrace self-pride and live their lives to the fullest, from creators redefining their identities and breaking stereotypes, to musicians and athletes pushing boundaries.
TikTok will hold a #MyPride virtual event Thursday (June 25), in which over 500 LGBTQ+ creators will join online sessions, fireside chats, panels, breakout sessions and digital celebrations.
Source: AdWeek